With its central bed, accessible via an illuminated step, the nautical effect floor covering, the ceiling encircled with lights and its panoramic roof, the 7090+ puts on the airs of a little palace. With the benefit of Elegance furniture, with their neat and tidy rounded design, it plunges you into an ambiance that makes every minute a precious memory.
ENGINE EQUIPMENT/CHASSIS
FIAT 2.3*
Gross vehicle weight

3500/3700
4250 on 40H chassis**

Unladen weight (+/- 5%)

3100

Overall length (m)

7,39

Overall width (m)

2,35

Overall "garage" width (m) with rear view mirrors open

2,76

Overall height (m) - (Tolerance +/- 3 %)a

2,79

Capacity of fresh water tank (litres)

100

Number of seatbelts

4

Number of seats (vehicle certificate)

4(or 3)***

Number of dining seats

5

Anti-pollution standard

Euro IV

Possible sleeping spaces

2+1

Bodywork (Polyester or Alufiber)

A

Type of heating (make and model)

Truma Combi 6 EH

Refrigerator capacity (litres)

150

Battery capacity (Ah)

100
Special features
OPENING PANORAMIC ROOF
CENTRAL BED WITH ADJUSTABLE SPRING
NAUTICAL EFFECT BEDROOM FLOOR COVERING
SEPARATE CIRCULAR SHOWER
15-INCH FLAT SCREEN TV UNIT (TV NOT SUPPLIED)
NEW ELEGANCE FURNITURE
METALLIC BODYWORK COLOUR
REVERSING CAMERA WITH INTEGRAL SCREEN
DRIVER'S AIRBAG ABS BRAKING + ASR
CAB AIR-CONDITIONING
AMBIENCE LIGHTING
NEW FACE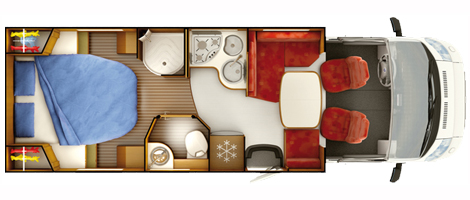 Day time layout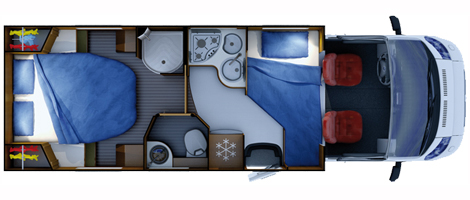 Day time layout
FIAT chassis: definition of the carriers different from the original commercial definitions of the chassis manufacturers
* OPTION : Fiat 3,0 - Cubic capacity (cm3) : 2999, Maximum power (kw CEE) : 116, DIN power : 160, Maximum torque (Nm) : 400, Standard EURO IV.
** If 40H chassis = additional charge
*** With option 160 hp and towing capability = 3 registered seats (3500kg) / without towing capability = 4 registered seats / With automatic gearbox MTA = 3 registered seats (3500 kg)
a Overall height g+50mm with 16" wheels (40 Heavy)
If GVV 3700 kg g4 registered seats
The optionally installed accessories are not included in the definition of the vehicle's unladen weight. The weight of these elements must therefore be deducted from the vehicle's payload.
Ask us a question about this vehicle, if you would like a part exchange price please provide all possible details of your vehicle.